Uniform
The Joseph Rowntree School Uniform
Black Blazer (with school badge)*

Optional Black V-necked jumper (with school badge)*

Joseph Rowntree School Tie (Dependent on year group)*
BOYS & GIRLS - Plain Black Unmarked Tailored Trousers (not cropped, not jeans, not leggings or tight stretchy material, No decorative zips or buttons). Below are examples of appropriate tailored trousers
Below are examples of inappropriate trousers which end above the ankle or which are stretchy fabric.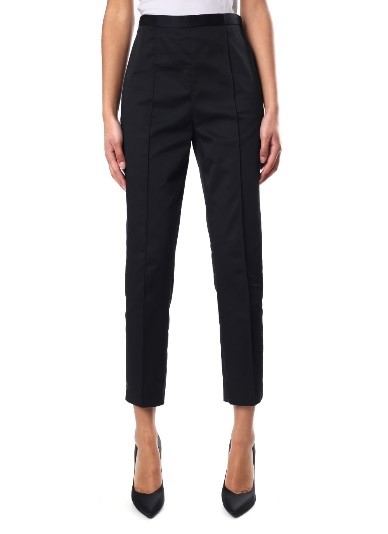 GIRLS - Optional black (pleated) school skirt* instead of trousers. This should reach below the fingertips when the arms are held straight at the sides.
White shirts – (available from supermarkets) – that button at the collar (not fitted and not blouses).

Plain Black Socks. Socks should not have patterns or embellishments such as lace.

Flesh coloured or Black Tights (no footless tights or leggings)
Black shoes (flat style, NOT trainers, not boots, not plimsolls/pumps). All shoes must be free of branding and have plain black laces. Please note, shoes which are trainer or pump style, are not allowed. Below are examples of appropriate shoes.
Below are examples of inappropriate shoes
PE Kit
Boys
Black school polo shirt*

Reversible Rugby Top*. Optional black base layer.

Black football or rugby socks

Black Shorts with logo*

White socks for athletics

Trainers

Football boots

Shin Pads

Gum Shield
Girls
Black Polo Shirt*

Black Top*

Black Socks*

Black Shorts with logo*

White socks for athletics

Trainers

Football Boots

Shin Pads

Gum Shield
PLEASE ENSURE THAT ALL ITEMS ARE NAMED
Items marked * must be obtained from GET BRANDED - our school uniform supplier. They are based at Green Lane, Clifton.
Tel: 0800 1244 133
General Equipment
Black pen, green pen, pencil, rubber, ruler, calculator, dictionary, student planner, reading book (essential for Years 7, 8 and 9 recommended for other years). Suitable bag for carrying books and A4 folders and Separate bag for games equipment (e.g. plastic carrier bag)
Jewellery
Students are allowed to wear a watch (smart watches are to be used only at break and lunch, as with mobile phones, and should be kept in lockers), one discreet ring and one earring per earlobe – small stud only. These must be removed for PE. There should be no nose jewellery or any other piercings. Students are not permitted to wear necklaces and bracelets/bands (other than for faith reasons), however, students are allowed to wear one charity band.
Make-Up
Make-up should be kept to a minimum and not be obvious. Any student wearing an unacceptable level of make-up will be asked to remove it. Nails must be of a natural colour and length. Nails which do not meet with policy will need to be cut/removed and have nail varnish removed.
Hairstyles
Hairstyles must not reflect extremes of fashion. Natural hair colours only are permitted. Extreme shaved hairstyles and any markings are also not permitted.
Inappropriate Uniform
If parents or students are unsure in any way whether or not something will be suitable for the Joseph Rowntree school uniform they can send it into school and their Pastoral Year Manager / Progress Leader will be able to clarify prior to any labels being removed and therefore not wasting any money. School trousers should be worn at an appropriate length at least below the ankle to avoid the cropped look and these should be worn with plain black socks ensuring that no ankle is visible. Black pumps and/or trainers do not meet with our uniform requirements and formal black leather shoes should be worn. Makes such as VANS, Adidas, Hugo Boss, Nike, Converse, Kickers and other sports brands are not permitted. Again, where there is any confusion parents should send the items into school and allow the Pastoral Year Manager / Progress Leader to inform them as to their appropriateness prior to any money being wasted.
Second Hand Uniform
At Joseph Rowntree School, we make every effort to ensure uniform is affordable. Second hand uniform can also be purchased from The Cats Protection League Haxby shop, 10, Haxby Shopping Centre, 1 The Village, York YO32 2LU. Where parents / carers are experiencing temporary situations which are causing difficultly, for example, recent job loss, bereavement or other serious and unforeseen circumstances, assistance can be applied for essential costs via our website here.
Click to view our Uniform Policy